REACH THE FULL POTENTIAL OF LATIN AMERICA WITH OUR ONE-STOP PAYMENT SOLUTION
Offer over 140 local payment methods and local currencies in 17 Latin American countries to start or strengthen businesses in this highly digitized, fast-expanding region, and send instant single or mass payouts to Brazil.
Merchants from all over the world are expanding to Latam with PagSeguro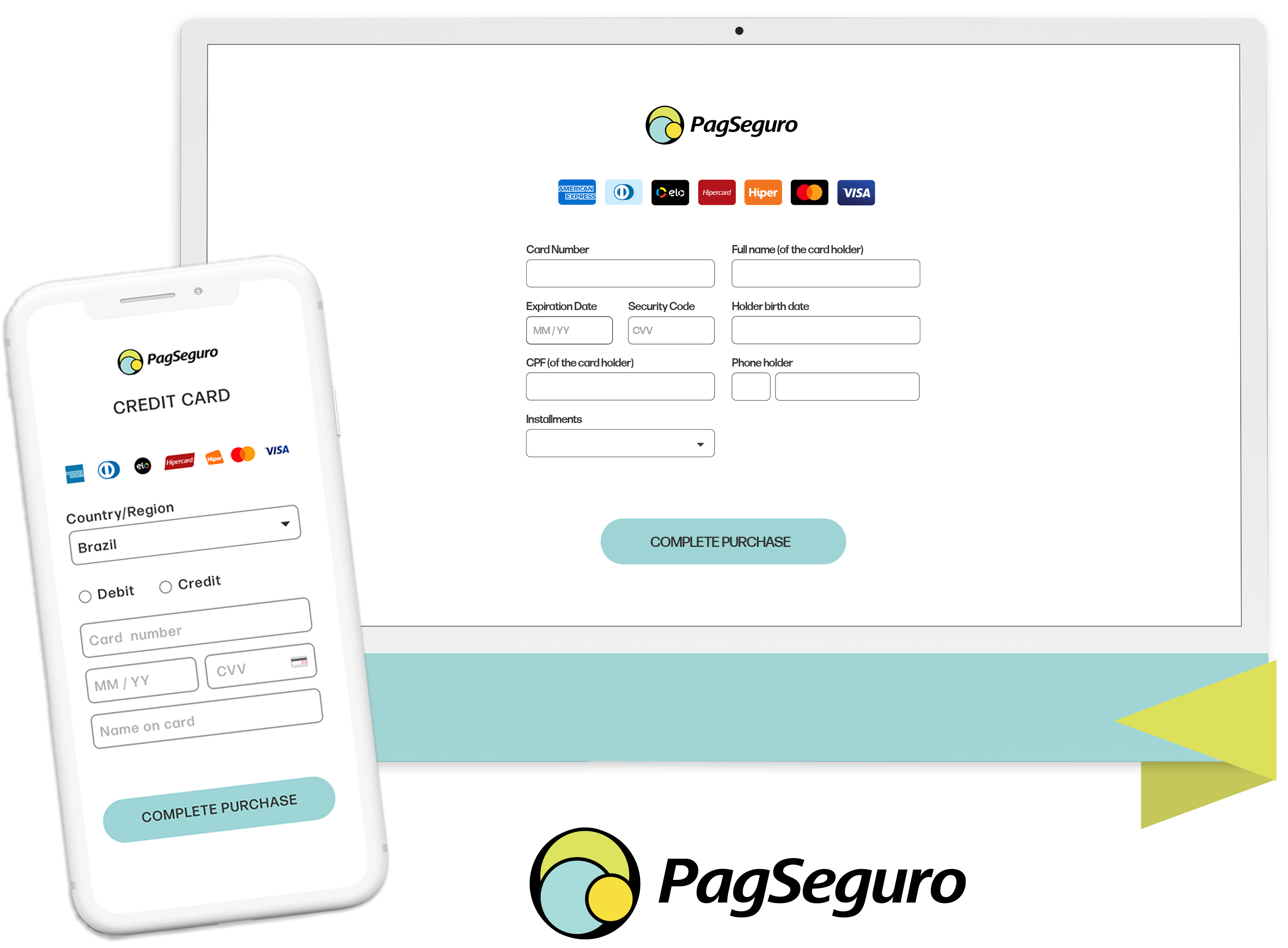 Meet all your Latam payment needs.
PagSeguro's one-stop payment solution connects international companies to Latam with no bureaucracy, no friction, no need for a local entity, and more options for you and your clients.
PAYMENT PROCESSING SOLUTION
Unlock the payment landscape of Latin American countries Reach a thriving market with a US$ 3.9 trillion GDP by processing and collecting local payments by offering over 140 Latam local payment methods. Receive payments from transactions in your account, anywhere in the world.

Tailored for Latam's needs: Offer payment in installments and with recurrence

Robust risk analysis: Our robust algorithms are built upon 17+ of experience in the digital goods sector

Count on us anytime: Expert account management and 24/7 local customer support

A solution with all you need: Offer total or partial refunds for processed payments through our API
Innovation and agility for cross-border disbursements. Send instant single or mass payouts to Brazilians in local currency within minutes, with no traditional banking fees. Gain access to Brazil's $ 18 billion payout market, with 12+ million recipients.

Truly instantaneous: Cross-border transfers cleared in a matter of minutes, not days

Reliable solution: High level of compliance to increase security and agility

Effortless operations: Funds are sent to recipients in Brazil through Pix or PagBank, without intermediaries

Multiple opportunities: Boost business innovation in social media, streaming, gaming, and many other markets
PagSeguro has the expertise your company needs
We have 18 years of experience in handling bureaucratic procedures of cross-border online payments. A market leader in the online games segment with our Payment Processing and Payout solutions, PagSeguro is one of the biggest acquirer fintech businesses in Latam, a leading company born out of innovation. This extends our technological and economic resilience, driven by a robust and consolidated infrastructure.
Latin America is ready for you
Brazil, Mexico, Peru, Argentina, Chile, Colombia, and 11 other Latin American countries are just waiting for your business to expand there. Bursting with yet untapped potential for fast growth and innovation, the region contains highly-digitized consumers and is an excellent option for businesses aiming to broaden their reach.
Over 200 million online shoppers in the six main markets
35% growth rate in e-commerce sales² in 2021, reaching a US$ 285.2 bi total
Among the six main markets in Latam, 69% of the population has a bank account
Latam has 77 million neobank clients, 82.5% of which are in Brazil
Free expert content to strengthen payment strategies
Exclusive studies, step-by-step guides, white papers, webinar recordings, blog posts, and much more content about market trends, payment methods, and other relevant information about successfully doing business in Latin America.
How PagSeguro can boost your business
We're ready to improve and expand payment processes for companies of any sector and all sizes. Want to know exactly how PagSeguro can help boost your business in Latin America? Then get in touch with our specialists right now: