After choosing their products/services, your customer is redirected to our payment page to finish the purchase
Minimal integration required
PagSeguro handles all payment information collection, sensitive data protection, and transaction security


After choosing their products/services, your customer completes the purchase without leaving your store
You have full control over your payment page
Tokenization support for recurring payments
Frictionless and smoother user experience for your customers


Create a payment page in just a few clicks and share the link with your customers
No integration required
All sensitive data is handled and protected by PagSeguro
No website needed
Sell through social media, WhatsApp, or wherever!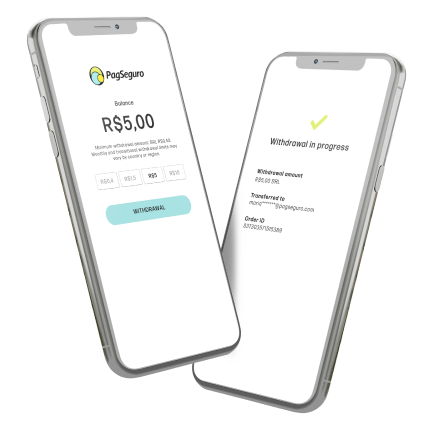 Easy and simple API integration
Sandbox available
Able to process +200 payouts per second and +2 million payouts per day
High level of compliance
Instant payouts sent within seconds
Allows single and mass payouts
PagSeguro's partnership network helps connect worldwide companies to Latin American consumers through local payment methods, with all the reliability and expertise you need:




A simple integration, all you need to succeed in Latam
By using our solutions through any type of integration, you access PagSeguro's benefits and technology:
Local payment methods
Offer more than 140 payment methods in 17 countries in Latam + Portugal, Spain, Turkey, Romania, and Greece.
The technology you need
Set up monthly installments, recurring payments through tokenization, our refunds API, and our comprehensive dashboard where you can manage your entire Latam operation.
PagSeguro's value-added services
Smart Fraud Prevention, 24/7 Customer Support, dedicated Account Management, and international settlement for anywhere else in the world. Learn more about our value-added services here.
The reliability you need
PagSeguro is PagBank's (NYSE: PAGS) international division. With our integrations, you get the robust, reliable technology and infrastructure of one of the leading fintech companies in the region, which operates as a local card acquirer in Brazil. Read more here!
Expand operations in Latin America and reach its full potential