PAYMENT PROCESSING SOLUTION
Process and collect local payments seamlessly in Latam
Sell to Latin Americans in their local currency with local payment methods without the need of local entities or local bank accounts. Count on our Payment Processing solution with international settlement, offer payments in installments, and much more.
Our one-stop payment solution enables worldwide merchants to access Latin America with transparent rates, no undisclosed fees, smart fraud prevention, and all you need for frictionless, agile payment processing in the region:
Provide over 140 local payment methods in 17 countries in Latam

Process over 200 transactions per second

Local acquirer in Brazil for even smoother processing

Refunds API guaranteeing easier processes for merchants and end-users

Expert Account Management and 24/7 local Customer Support

Unified reconciliation for all countries

Integrations for all company sizes
Access the full potential of Latin America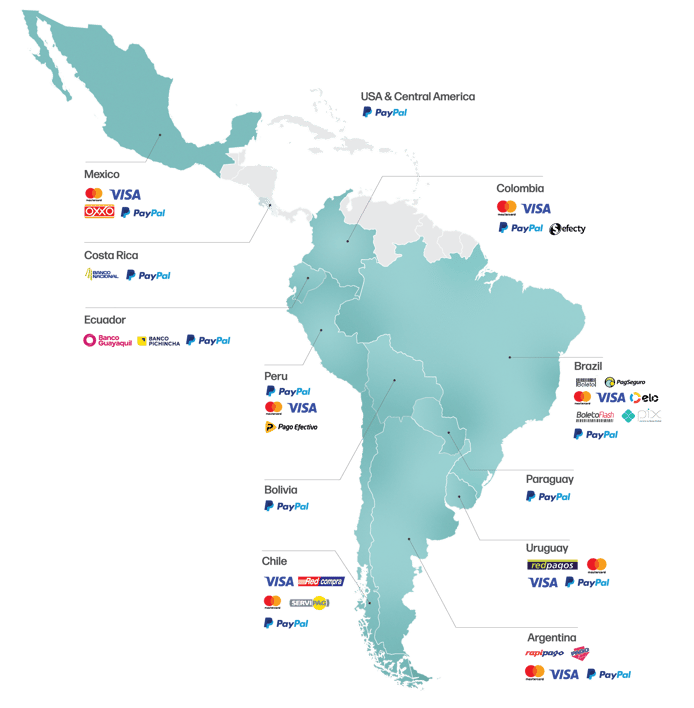 PagSeguro's Unique Value Chain
PagSeguro's ecosystem verticalizes the entire value chain. We are a local card acquirer in Brazil, which means higher approval rates, less cross-border fees, faster and more secure processing, and better risk analysis.
We are also an aggregator, covering from local cards to alternative payment methods in Latin America without you needing several different payment integrations. As a payment processor, we process transactions on behalf of our merchants and handle it all — from processing, collecting the money, and settling it for you anywhere in the world.
One Simple Integration, Multiple Features
By using our Payment Processing Solution, you get access to the full scope of PagSeguro's benefits and technology for foreign merchants in Latam:
Each country in Latin America has various payment options and currencies, and accepting them in your business will increase your conversion and revenue in the region. Through our solution, it's possible to access more than 140 payment methods in 17 countries in Latam (and counting!), plus Portugal, Spain, Turkey, Romania, and Greece.
With that, you can offer to your customers all the local payment methods they already know and trust, and also reach consumers without bank accounts or credit cards. Through local payments, you can access Latam's full potential.
Offer your customers the flexibility and possibility of splitting up the payment of high-priced products or services purchases so that it fits their monthly budget. With this option, although the customers pay monthly, you receive the money all at once in your account with no extra fees.
Offer your customers recurring billing through tokenization by protecting your customer's sensitive data, by replacing cardholder details with a stand-in token.
Our company helps avoid chargeback disputes by offering refunds in an integrated solution where all the processes are done automatically with the customer. Our API supports total or partial refunds for processed payments.
A practical and transparent dashboard to view, manage and get detailed insights on your Latam operations.
With us, there's no cross-border surcharges. Know exactly what are the fees for each transaction with PagSeguro, so you don't have to worry about additional undisclosed fees.
A ONE-STOP PAYMENT SOLUTION
With our Payment Processing solution, you get our support with everything regarding exchange rates, cross-border procedures, and optimization of the entire payment flow.
With PagSeguro, you get much more than local payments. All the services below are included in our solutions, guaranteeing the best strategies for your Latam sales
With a proprietary risk management system using machine learning, PagSeguro offers robust anti-fraud and anti-risk features to prevent any issues in transactions. In addition, it combines with a specialized team full of experts on the Latin American market to be ready to reduce the risk of fraud and chargebacks.
Get paid monthly or
weekly, with limited
taxation. We provide international settlement in USD, EUR or GBP into your account anywhere in the world.
24/7 LOCAL CUSTOMER SUPPORT
Our multidisciplinary Customer Support team is formed by over 70 specialists, and is available 24x7 in Portuguese, Spanish, English, and Turkish. We offer the cultural and linguistic diversity your users need, thus helping you increase customer loyalty, brand awareness, and client satisfaction.
Integrations for all company sizes
Choose what's most suitable for your business
Your customer is redirected to our payment page

Easy and simple integration

All sensitive data is handled and protected by us
Your customer completes purchase without leaving your store

Have full control over your payment page
Create a payment page in just a few clicks and share the link with your customers

All sensitive data is handled and protected by us
reach more countries and a much wider, high-consuming audience.
Latin Americans are a fast, highly consuming audience that is eager to buy from international merchants that offer a local payment experience.
INCREASING CUSTOMER CONVERSION AND RETENTION:
offering local payment methods and currencies is a must for Latin American clients, making them much more confident and interest in your products.
Talk to us and boost your sales in Latam